Varifocal Sunglasses
The sun's UV rays can be extremely damaging to our eyes, this is why it is vital to keep them protected when you are outside. We offer tint options for almost all of the glasses we stock, including our varifocal glasses range. We offer an unparalleled selection of varifocal sunglasses fitted with the best varifocal lenses you've come to expect from high-street retailers. Find a huge range of styles and colours including designer varifocal sunglasses from our online glasses store.
Varifocal sunglasses combine eye protection and crisp vision into a single pair of glasses. Our high-quality varifocal sunglasses ensure superb vision clarity at multiple distances without the need to change your glasses. They are the only solution for the modern lifestyle and help make your life just that little bit easier. Find out more about how varifocal sunglass lenses can help revolutionise your lifestyle in our Bifocal vs Varifocal blog.
What Are Varifocal Lenses?
Varifocal lenses are the best lens choice for excellent vision across various distances, providing unparalleled clarity and focus. Unlike bifocal glasses, varifocals offer a seamless transition between distance ranges, ensuring crisp and clear vision at almost any distance.
A varifocal lens, also known as a multifocal lens, incorporates multiple focal points, enabling optimal vision quality. By precisely directing incoming light onto the retina, these lenses offer superior visual acuity. In contrast, standard single-vision glasses can only focus light accurately within a narrow range, necessitating separate pairs for long and short distances.
While varifocal lenses share the concept of multiple focal points with bifocals, they exhibit a gradual transition between long-range and short-range vision correction. This ingenious design generates multiple focal points at various distances, resulting in excellent vision capabilities for long distances, short distances, and everything in between.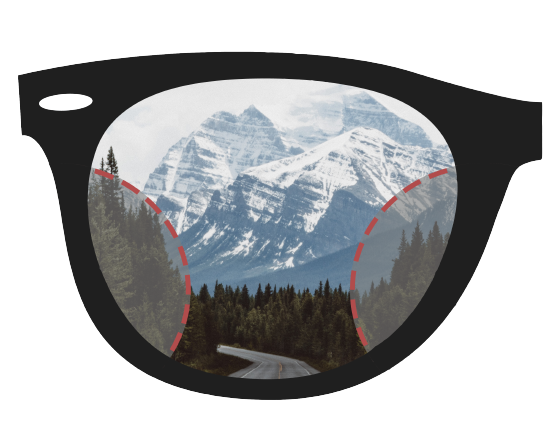 Adjusting to Varifocal Lenses
If you are new to wearing varifocal glasses it might take a short amount of time to get used to. But with just a little practice you'll be reaping the rewards of varifocal and discover the incredible advantages that come with varifocal glasses. Here are some things to remember when you receive your new varifocal sunglasses:
The Top - The upper portion of your varifocal lens is designed for long distances eg. driving.


The Middle - This part of your lenses is for intermediary sight ranges eg. watching television.


The Bottom - The bottom area of your glasses lens is great for close ranges eg. reading.
As you are getting used to your varifocal glasses try:
Wear your varifocals as often as possible, this will help you get used to them fast and discover their benefits.


When looking at an object turn your head to face that direction rather than just moving your eyes. This will mean you will naturally look through the most appropriate part of the varifocal lens.


When working at close ranges during activities such as reading try to keep your chin up and look through the lower portion of your glasses lens.
Getting Your Varifocal Sunglasses
You can transform almost all of our glasses into varifocal sunglasses with just a few clicks! Simply find a pair of glasses you like the look of - don't forget you can try them on with our free virtual mirror service. Then during the checkout process select varifocal lenses, and add a tint...it's that simple. Don't forget to add one of our lens packs to get the most out of your new varifocal sunglasses and keep them fully protected!
Why Shop Online With Glasses2You?
Glasses2You is a leading online glasses retailer for varifocal sunglasses. We are committed to providing you with the same fantastic service and products you would find on the high street, only for much, much less. Here's what Glasses2You can do for you:


Find your next pair of varifocal sunglasses at Glasses2You!
Varifocal Sunglasses FAQs
What are varifocal sunglasses?
As the name suggests, varifocal sunglasses are a combination of prescription varifocal lenses and sunglasses. Varifocal lenses offer the wearer a excellent level of vision with lenses that transition between long and short distance prescription seamlessly, whilst UV blocking tint protects your eyes from the suns most harmful rays.
How do I buy varifocal sunglasses online?
Buying online is easy, and it's the best way to find cheap varifocal sunglasses! We make the process as simple as possible whilst giving you a 100% satisfaction guarantee on any order you make with us. Once you have found a pair of sunglasses you love in our selection of varifocal sunglasses, just add it to your basket. During the checkout process you can send us a copy of your prescription, and then just sit back and wait for your new custom prescription sunglasses to be delivered to your door!
Who are varifocal sunglasses best suited for?
Prescription varifocal sunglasses are a great solution for anyone who requires prescription glasses. Protecting your eyes from sun exposure is important for maintaining eye health and reducing eye fatigue.
How do varifocal sunglasses work?
Varifocal sunglasses, also known as progressive sunglasses, feature lenses that seamlessly blend multiple prescriptions into a single lens. They work by incorporating a gradient of powers, with the prescription strength increasing gradually from the top to the bottom of the lens. This allows wearers to see clearly at various distances, including distance vision, intermediate vision (such as for computer screens), and near vision (for reading). As users shift their gaze up or down the lens, they automatically adjust their focus, eliminating the need to switch between different pairs of glasses. Varifocal sunglasses are an excellent option for people with presbyopia, a common age-related condition that reduces the eye's ability to focus on nearby objects.
How do I get used to varifocal sunglasses?
If you aren't currently using varifocal glasses or sunglasses you are sure to notice a big difference when changing over to varifocal lenses. Here are some things you can do to make sure your transition to varifocal sunglasses is as smooth as possible, and you are getting the most out of them!
Wear them regularly

>Start in familiar places

Keep your head level, move eyes to adjust focus

Be patient, it takes time to adapt

Consider a gradual transition

Get adjustments from your optometrist if needed

Avoid sudden movements

Keep your prescription up to date