Women's Varifocal Glasses
If you are looking for a fantastic deal on the latest women's varifocal glasses, look no further! At Glasses2You, we pride ourselves on offering unbeatable low prices that you won't find anywhere else. Our varifocal glasses are only fitted with the best varifocal lenses so you can experience the same great quality you'd find on the high street, but at a fraction of the cost! With our wide range of women's varifocal frames, shopping for glasses online has never been more rewarding. Discover how our varifocals can revolutionise your vision today!
Say goodbye to carrying around multiple pairs of glasses and embrace the convenience of varifocals, perfectly suited for the demands of a modern lifestyle. Whether you're reading, driving, or enjoying precious moments with your loved ones, our women's varifocals provide the crystal-clear vision you need to seize every opportunity and live life to the fullest.
How Do Varifocals Work?
We believe there is a glasses type that is perfect for everyone, so read on to find out how varifocals work and if they would be right for your type of lifestyle.
Varifocal lenses, also known as multifocal lenses, revolutionise vision correction by offering multiple focal points within a single lens. By cleverly manipulating the lens structure, light passing through varifocal glasses is split, resulting in distinct focal points at various distances, such as near and far ranges. This ingenious design ensures crisp, clear vision across multiple focal distances.
Differentiating between bifocals and varifocals can be challenging, given their similarities. However, one key distinction sets them apart. Bifocals exhibit a noticeable separation between the upper, long-distance segment of the lens (typically situated in front of the pupil) and the lower, short-distance segment. Varifocals boast a seamless transition between focal ranges, without any visible lines or demarcations. This gradual transition allows varifocals to accommodate a broader range of focal distances, thanks to the presence of multiple focal points within the transition section of the lens. For more information read our varifocals vs bifocal blog.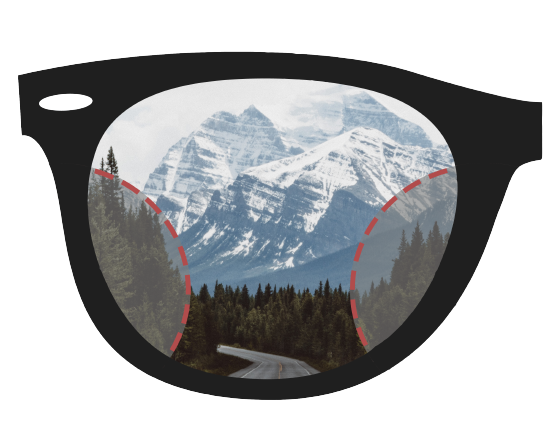 Adjusting to Varifocal Lenses
Varifocals are a little different from single vision lenses, so if you are used to wearing single vision lenses it might take some time to adjust to your new varifocal lenses. But this is nothing to worry about, and with a little practice, you will get the grips with them and discover the incredible advantages of wearing varifocals in no time! Here are some things to remember when you receive your women's varifocal glasses:
The Top - The upper portion of your varifocal lens is designed for long distances eg. driving.


The Middle - This part of your lenses is for intermediary sight ranges eg. watching television.


The Bottom - The bottom area of your glasses lens is great for close ranges eg. reading.
As you are getting used to your varifocal glasses try:
Try to wear your varifocals as often as possible, this will help you get used to them fast and discover their benefits.


When looking at an object turn your head to face that direction rather than just moving your eyes. This will mean you will naturally look through the most appropriate part of the varifocal lens.


When working at close ranges during activities such as reading try to keep your chin up and look through the lower portion of your glasses lense.
Did You Know?
We offer one of the largest selections of varifocal glasses online, from cheap varifocal glasses to designer varifocal glasses and everything in between. Find your perfect pair of women's varifocal glasses today at Glasses2You.
Don't forget, most of the varifocal glasses available at Glasses2You can be made into varifocal sunglasses. That's right, your women's varifocal glasses can now be turned into varifocal prescription sunglasses! To opt for prescription sunglasses, simply add a tint to your glasses lenses at checkout and keep your eyes protected from harmful UV rays.
Why Shop Online With Glasses2You?
Finding your perfect pair of glasses can be hard sometimes, but here at Glasses2You we try to make it as fun and enjoyable as possible. Glasses2You is a leading online glasses retailer for women's varifocal glasses. We are committed to providing you with the same fantastic service and products you would find on the high street, only for much, much less. Here's what Glasses2You can do for you:


Find your next pair of women's varifocal glasses at Glasses2You!