---
Men's Varifocal Glasses
Never overpay for your men's varifocal glasses again! Here at Glasses2You we are committed to providing unbeaten super-low prices that you just won't find on the high street, with the same outstanding quality you would expect from leading retailers! Read our quick varifocal guide below to discover how varifocals can brighten your world.
Varifocal glasses are a fantastic solution to a modern lifestyle, eliminating the need for different glasses for each of your daily tasks. Whether you are driving, meeting friends, or just at home watching TV, a single pair of varifocals can do it all. So, how do varifocals work?
How Do Varifocals Work?
We know finding the perfect type of glasses to suit your lifestyle can be hard, so read on to find out a little more about varifocal glasses to see if they are right for you!
Varifocal lenses (sometimes called multifocal lenses) work by providing multiple focal points for the wearer. The way the lens of your varifocal glasses is made means the light that passes through it is split in such a way that at certain distances (usually near and distant ranges) there will be a focal point for the light and therefore provide crisp and clear vision!
You may be wondering, 'what's the difference between Bifocals and Varifocals?' Well, these glasses types are very similar, however, bifocals will have a visible separation between the long-distance part of the lens (usually in front of the pupil), and the short-distance part of the lens (usually the lower segment of the glasses lense).
Varifocals do not have this visible separation, and instead, have a gradual transition between the two ranges. This gives varifocals the ability to provide a larger range of focal distances and gives the wearer more flexibility in their sight. Find out more about bifocals vs varifocals.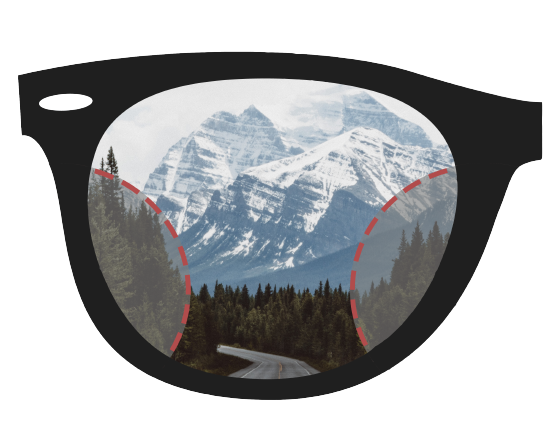 Adjusting to Varifocal Lenses
If you are used to wearing single vision lenses it might take some time to adjust to your new varifocal lenses, but don't worry with a little practice you will get the grips with them and discover the incredible advantages of wearing varifocals. Here are some things to remember when you receive your men's varifocal glasses:
The Top - The upper portion of your varifocal lens is designed for long distances eg. driving.


The Middle - This part of your lenses is for intermediary sight ranges eg. watching television.


The Bottom - The bottom area of your glasses lens is great for close ranges eg. reading.
As you are getting used to your varifocal glasses try:
Try to wear your varifocals as often as possible, this will help you get used to them fast and discover their benefits.


When looking at an object turn your head to face that direction rather than just moving your eyes. This will mean you will naturally look through the most appropriate part of the varifocal lens.


When working at close ranges during activities such as reading try to keep your chin up and look through the lower portion of your glasses lense.
Did You Know?
Most of our glasses here at Glasses2You can be turned into sunglasses. That's right, your men's varifocal glasses can now be turned into varifocal prescription sunglasses! To opt for prescription sunglasses, simply add a tint to your glasses lenses at checkout and keep your eyes protected from harmful UV rays.
Why Shop Online With Glasses2You?
Glasses2You is a leading online glasses retailer for men's varifocal glasses. We are committed to providing you with the same fantastic service and products you would find on the high street, only for much, much less. Here's what Glasses2You can do for you:


Find your next pair of men's varifocal glasses at Glasses2You!