Finding Your Perfect Frame
You can make huge savings when buying online with Glasses2You. However, you do want to make sure that you end up with a frame that suits you. We want to make you as comfortable as possible with shopping online for your next pair of glasses, so please familiarize yourself with the following so that you can be confident about the product you order.
Understanding Frame Measurements
When buying new glasses or adjusting your existing frames, understanding the terminology used for measurements can be useful. Below we describe some of the most useful measurements for fitting your frames.

Lens Diameter: This is measured across the lens from the bridge
Bridge: This is the area which sits directly above your nose
Arm Length: There are three arm lengths that can be regarded as standard; 135mm, 140mm and 145mm
Frame Width: Measure the total width of the full-frame to give you an overall better picture of how these frames compare to your current glasses. (This measurement is for guidance only as it can be slightly adjusted either way by an optician).
Lens Height: Measurement from the top to the bottom of the lens. All frames can be fitted with single-vision lenses. However, if you require a bifocal or varifocal lens, then this measurement becomes important, as multi-focal lenses will require a minimum lens depth of 28mm.
Choosing Your New Frames
If you already own a pair of glasses that you are happy with, the process for choosing the right frame for you is very simple. You can choose a pair of a similar style or totally different if you wish. But by checking the frame sizes from your own pair against the sizes indicated on our site, you will be able to purchase a pair of glasses that fit comfortably, no matter their style!
All our frames show all the dimensions when you go in to the product details of a particular frame (example below). This includes the overall width and height of the frame in question. Simply measure a frame you have at home that is comfortable to wear and compare it. If your frame is within 5mm of the size of the frame on our site, you can safely say it will fit.

Please note though, these measurements do not have to be exactly the same, just very similar will do. One or two millimetres difference should not make too much difference.


How Do I Measure My Frames?

Take a look at the inside of the arms of your glasses. You may also find these measurements on the inside nose bridge but more often than not it will be on the arm. You will see something like 48 [] 17 135 These numbers relate to lens diameter, nose bridge width, and arm length. This tells you that the lens diameter is 48mm, the nose bridge gap is 17mm, and the arm length is 135mm.
Now compare these measurements against the glasses on our website and you will get a comfortable-fitting pair of glasses.
The measurements indicated in red in the graphic above are extra measurements we encourage you to take yourselves and will not appear anywhere on your glasses. All the products on our site have these extra measurements indicated.
There may be other numbers and codes on the inside of the arms. These are just manufacturers' codes for styles and colours. You can ignore these.
Check out our 'Guide to Buying Glasses Online' for more help with choosing the right glasses and purchasing glasses online.
PD (Pupillary Distance)
This is the distance between the centre of one pupil to the centre of the other pupil measured in millimetres. It is usually written as one value (60mm) but sometimes written as 30/30 or 31/29 if one eye is slightly further away from the centre of the nose than the other.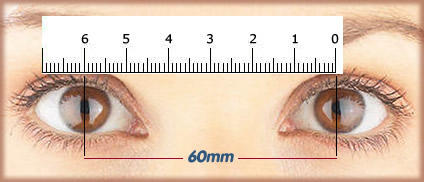 Unfortunately, many prescriptions do not include a PD measurement or pupillary distance measurement. Your optician does not HAVE to give you this as part of your eye test and often chooses not to to encourage you to pay over the odds for your glasses rather than using our fantastic service at Glasses2You.
So, therefore, we encourage you to ask your optician to supply you with this measurement with your prescription. However, don't panic if you haven't got this or don't want to ask your optician, we can still make your glasses up using an average pupillary distance measurement based on your gender, the size of the frames, and the experience of our dispensing optician.
In the majority of cases, this method works extremely well, but there will be certain customers who, through having very strong prescriptions or who significantly differ from the average, may encounter some problems.
In these cases, the specs won't damage your eyes but may well cause some discomfort. If you know that you have a particularly strong prescription or suspect that you may not fall close enough to what is seen as average sizes, we recommend that you try one of the following methods of obtaining your PD measurement.
Obtaining Your Own Pupillary Distance
Method 1
Measure your PD online
Simply visit our online tool (you need to be logged in) on a device that has a webcam/camera. You can use your phone, tablet or your computer. When you load the tool, it will run you through some basic instructions, and with a quick image, you will receive your PD measurement accurate to 0.5 mm.
You can then supply us with this value via email (or our online prescription form) if we require it to make up your glasses.
Method 2
Measure your PD manually
The pupillary distance can be easily measured by looking in a mirror and using a ruler! Please follow these steps:
- Stand in front of a mirror at a distance of about 20cm (8 inches)
- Close your right eye
- Place your ruler flat against the mirror and align it horizontally with the millimetre scale pointing upwards
- Looking over the top of the ruler with your left eye, align the zero mark of the ruler in the centre of your left pupil
- Now open your right eye and close your left but keep your head still and the ruler in the same position
- Read the millimetre measurement corresponding to the centre of your right pupil
- To be sure, you can repeat this process a few times for consistency
We can send you a custom-made PD ruler to help you measure your PD if this is helpful.
SHOP MENS
|
SHOP WOMENS
|
SHOP ALL FRAMES