Women's Bifocal Glasses
We are a leading supplier of women's glasses suitable for bifocal lenses, we have one of the largest selections of bifocal glasses online to find your next favourite women's frames. Bifocals are great for those who usually require two pairs of glasses for long and short-range tasks. Bifocal lenses combine two prescriptions into a single lens, meaning you no longer need to carry two pairs of glasses with you!
Our women's frames suitable for bifocal lenses come in loads of shapes and styles, we know you'll find one that you absolutely love. Why not use our free virtual mirror to see how any of our frames look on your face without leaving the comfort of your home. Getting your new pair of bifocal women's glasses couldn't be easier, just find a frame you love and then select 'bifocal lenses' during the checkout process. Your new bifocal women's frames will then be sent right to your door.
What Are the Benefits of Bifocals?
Bifocal lenses are perfect for anyone who requires separate long-range and short-range prescriptions. The bifocal lens combines both of these prescriptions into one lens - usually, the long-range prescription is at the top and the short-range prescription is at the bottom. This combination of prescriptions means you will have a single pair of glasses that give you the same vision as two separate pairs of glasses with single-vision lenses!
The positioning of the near and farsighted prescriptions gives you flexibility with tasks. For example, if you are reading or completing close-range tasks you will naturally look through the bottom of your glasses lens, whereas for long-distance tasks such as driving you will e looking through the upper portion of your glasses lens.
The dual prescription lenses in bifocals allow the wearer to quickly transition between tasks at varying ranges without the need for changing your glasses - find a single pair of glasses for every activity.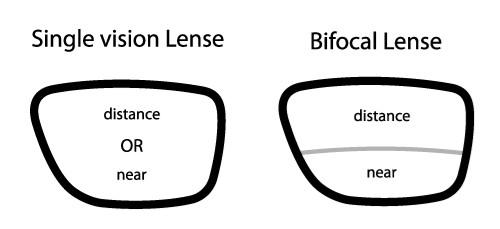 Why Shop Online With Glasses2You?
Glasses2You is a leading online glasses retailer for women's bifocal glasses. We are committed to providing you with the same fantastic service and products you would find on the high street, only for much, much less. Here's what Glasses2You can do for you:


Find your next pair of women's bifocal glasses at Glasses2You!