Men's Bifocal Glasses
Glasses2You is a leading online supplier of men's bifocal glasses. We offer a vast and diverse selection of men's frames suitable for bifocal lenses. We are committed to providing our customers with a seamless shopping experience to help you find your perfect pair of men's bifocal glasses, complimenting your style and enhancing your vision.
Bifocal glasses are the go-to solution for individuals who frequently shift between tasks requiring varying focus distances. A bifocal lens is split into two sections, the upper portion of the lens is tailored to your long-distance prescription, and the lower portion of the lens is made to your short-distance prescription. With our specialised prescription bifocal lenses, you can effortlessly transition between long-range and short-range activities without the hassle of constantly switching between different pairs of glasses.
How do bifocal glasses work?
The concept behind men's bifocal glasses is simple, combining your long and short-range prescription into a single pair of glasses. The upper part of the lens is tailored to accommodate your long-distance prescription, allowing you to see clearly when looking at objects far away. Simultaneously, the lower portion of the lens is customised to your short-distance prescription, enabling you to read or focus on nearby objects with ease. This innovative design ensures optimal vision correction for all your daily activities, maximising convenience for you while ensuring visual clarity.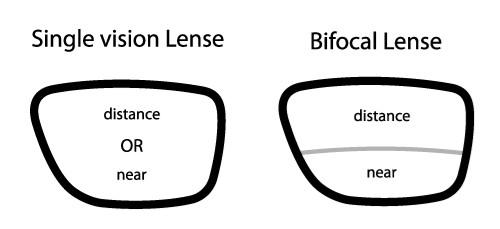 What are the benefits of bifocals?
Bifocals are a great glasses solution for those who usually require two pairs of glasses for long and short-distance tasks. Our men's bifocal glasses can combine any two prescriptions into a single lens and completely eliminate the need for a second pair of glasses.
Most bifocal glasses will have the near-sighted prescription fitted at the bottom of the lens - perfect for tasks like reading or using your mobile phone and have the long-distance prescription fitted at the top of the lens - great for driving or watching television.
Unlike single vision glasses which can only be made to fit one prescription, bifocals allow the wearer to quickly transition between tasks, giving them a single pair of glasses, which is suitable for all activities.
How do I know if I need bifocals?
As we age, our eyesight will begin to naturally deteriorate meaning we gradually encounter increasing difficulty in reading or focusing on close-up objects. This vision condition is known as presbyopia, a natural part of the ageing process. Presbyopia typically begins to become apparent around the age of 40.
Most individuals become aware of presbyopia when they find themselves holding their phone or books at a distance to achieve clear visibility. If you can relate to this and already wear glasses, it might be advisable to undergo an eye test and consider trying bifocal reading glasses or varifocal lenses. If you don't currently wear glasses for distant vision, your optician may suggest single-vision lenses as a suitable option.
Should I get bifocal or varifocal lenses?
Bifocal and varifocal lenses share a lot of similarities, both are made using long and short-distance prescriptions to enable you to use the same pair of glasses no matter what you are doing. Bifocals use lenses which have a distinct separation between long and short-range lenses, whereas varifocal glasses use a progressive transitioning lens which gives the user a greater range of focal distances in a single lens – usually long, medium, and short. To find out more about the similarities and differences between bifocals and varifocals, and which is best suited to you, read our varifocals vs bifocals blog.
Why shop online with Glasses2You?
Glasses2You is a leading online glasses retailer for men's bifocal glasses. We are committed to providing you with the same fantastic service and products you would find on the high street, only for much, much less. Here's what Glasses2You can do for you:


Find your next pair of men's bifocal glasses at Glasses2You!