Supplying Us With Your Prescription
We've made this part of the process an absolute breeze because prescriptions, especially optician's handwriting, can be difficult to understand.
If you've not yet supplied your prescription, here's what to do next...
OPTION 1. (Our preference:)
1. Using your mobile phone, photograph your prescription. (Please make sure your name and address are visible in the photo)

2. Then text 'MYRX' to 07537 416868 (remembering to attach the photo of your prescription) OR email it from your phone to customerservices@glasses2you.co.uk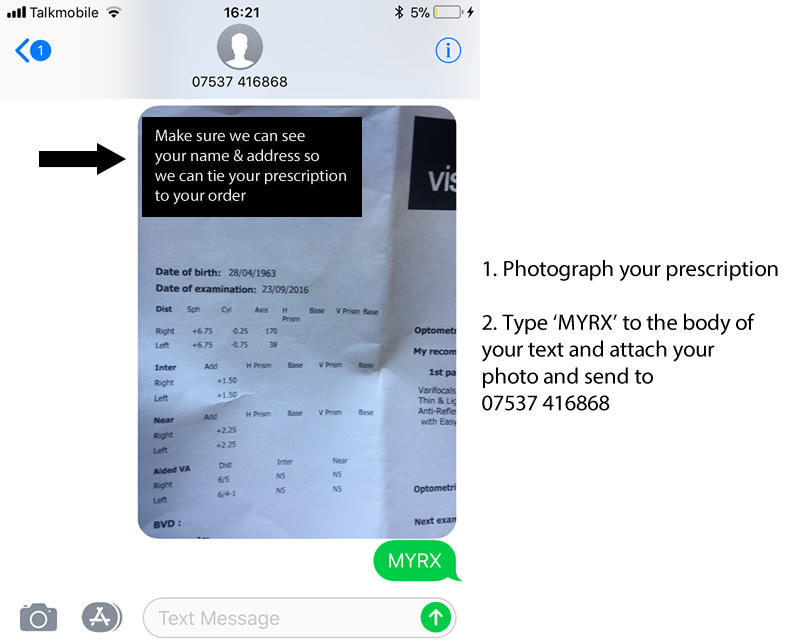 We'll receive this text as an email. We'll respond to say we've received your prescription (During office hours)
OPTION 2.
Photograph or scan your prescription and email it to us from your ipad or computer to customerservices@glasses2you.co.uk
Please add your order number to the email subject line.
Further options...
You may enter it online using our online form during the order process (please check the + or - values on your prescription very carefully!)
You may call us on 01489 572340 and we can take the details from you and confirm all your requirements.
All these options are shown during the order process and you can select one of them.