Is Our Virtual Mirror the Best Way to Select Glasses Online?
I often tell people that they can buy their prescription glasses online and save huge amounts of money, but occasionally I get the reply: "but I can't try them on!".
Well, when you got to the opticians, you might be able to try them on, but often without the lenses in the frames, so you cannot see yourself in the mirror either. Some opticians do what we do and take a picture and then show this to you when you are wearing your old pair.
By using our virtual mirror, you have this same facility at hand, from the comfort of your own home.
We also have the facility to select several frames at a time, add them to your shortlist, then compare them all at once on the virtual mirror seeing what each one looks like on your face, all next to each other. This is a great way of selecting glasses and narrowing down your selection.
Why not give it a go and let us know if this would change your mind about buying glasses online and having them delivered directly to your door.
https://www.glasses2you.co.uk/virtual-mirror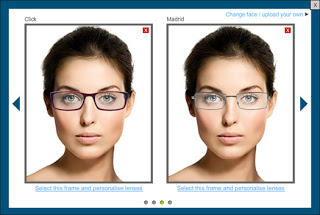 Share This Post