How Your Eyesight Can Affect Your Driving
We all know how important our eyesight is, and it comes as no surprise that this importance is elevated when we are behind the wheel of a vehicle. From simply reading sign posts for navigation, to how our eyesight can affect stopping distance in an emergency. We will cover just how much of your driving your eyesight could be affecting, and what you can do to keep risks to a minimum.
How Can Eyesight Effect My Driving?
Well, this might sound like a straightforward question, and of course some of the answers are simple, but it is often very easy to overlook issues with your sight that could cause problems on the road. Eyesight issues are often problems which develop over long periods of time, so we often do not notice how much our sight may deteriorate.
Reductions in our eyesight can make driving far more difficult, this is made worse when driving at night, or in poor weather conditions where our sight is strained even at the best of times. Reading signage may become difficult at longer distances, this can be a cause of huge distraction while driving. It is also very possible for poor eyesight to make identifying dangerous situations or hazards more difficult. Any reduction in the ability to identify risks to you or your vehicle is a safety concern to you, your passengers and other road users.
Reduced eyesight and issues related to the identification of hazards will lead to an increased reaction time to danger, and therefore will increase stopping distances and how well you can make split-second decisions to avoid danger.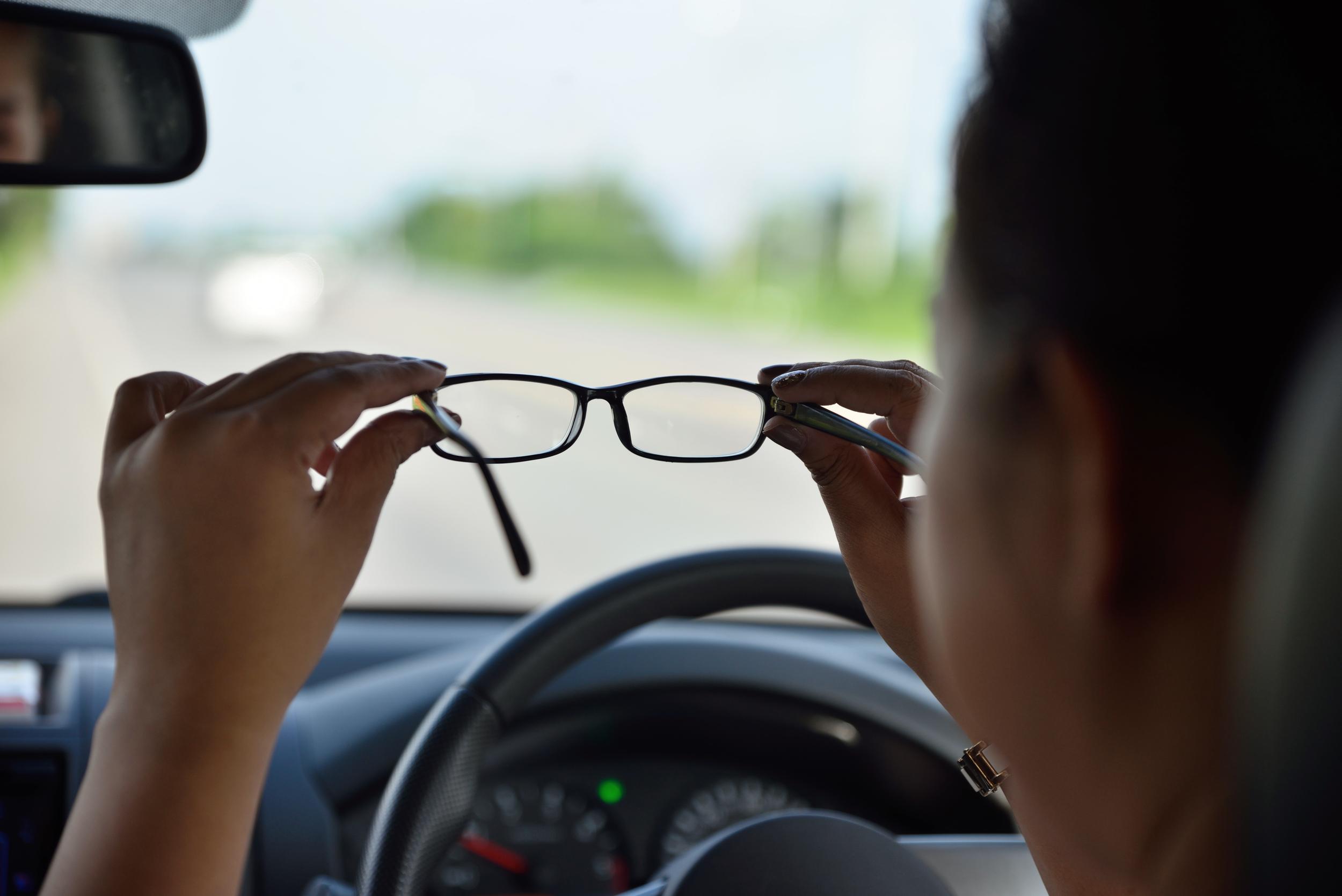 Your Eyesight When Driving: The Law
To set a standard for eyesight when driving, the government introduced the 'standards of vision for driving', this is a set of criteria a driver must meet to operate a vehicle. The standards of vision for driving states that a driver must be able to read a car number plate (made after 1st September 2001) from a distance of 20m. A driver must also have a visual acuity of 0.5 (6/12) measured on the Snellen scale using both eyes together, or if the driver has one eye, that eye only. A driver may use contact lenses or glasses to achieve these requirements, they must also have an adequate field of vision.
For larger vehicles, like lorries and busses there is a slightly stricter eyesight criteria to meet due to their size and the higher potential for danger. Your eyesight is tested when you take the practical part of your driving test where you are asked to a read a number plate form 20m. However, after doing this, the responsibility is on you to ensure your vision is at an appropriate level for you to drive a vehicle.
It has been suggested that a full eyesight test is made compulsory before taking the practical side of a driving test to better judge the level of someone's eyesight, however this has not yet been adopted.
Monitoring Your Eyesight for Driving
As previously mentioned, we often don't realise how much our eyes may have deteriorated. This makes it ever more important to have regular eye test, so we can keep on top of our sight and how our prescriptions may have changed. A study of drivers showed that 26% of drivers who require glasses or contact lenses had driven somewhere local without them, and 15% of them had driven over 50 miles without their glasses or contact lenses.
37% of the people involved in this study said they had not taken an eye test in the last two years. Due to this large number of people not monitoring their eyesight sufficiently police have started to complete roadside eye tests where the driver is asked to read a number plate on a vehicle from 20m. This has helped them identify people whose eyesight is not up to the legal standards.
Current laws mean it is up to the driver to contact the DVLA if something changes with their eyesight, this is often not known, or people's lives get in the way of doing this. The only other intervention comes to those over 70 years old, they are required to renew their licence every three years, and declare they still meet the legal driving requirements.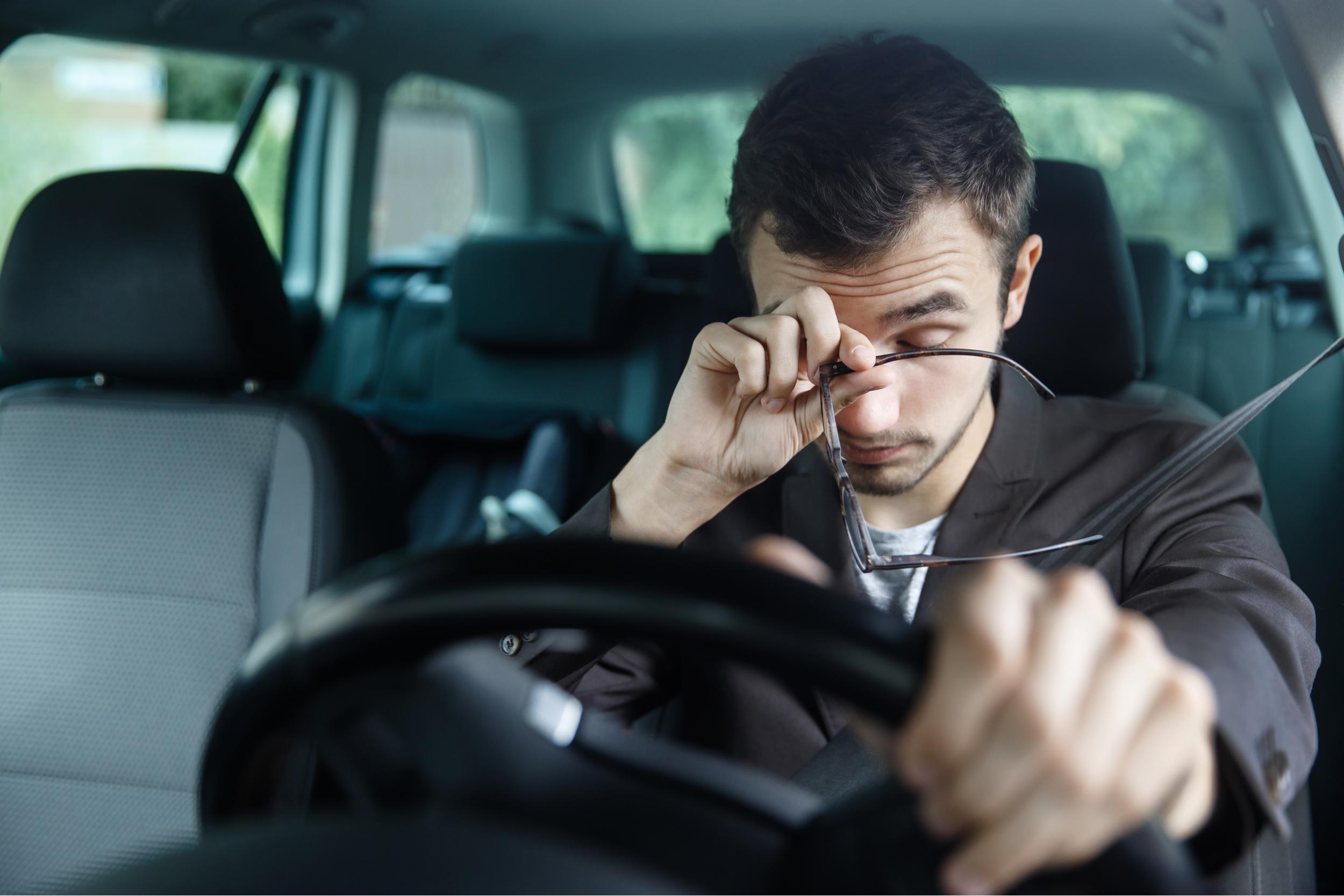 Maintaining Your Eyesight for Driving
Maintaining your eyesight for driving is simpler than it may sound, it is purely a case of monitoring your vision and taking appropriate measures to ensure you are meeting the medical requirements to drive. This will not only make sure you are safe behind the wheel, but should also have a positive impact on the rest of your life!
Eye test are key, these will help you monitor your eye health and give you vital information on what you can do to improve your vision. If you need one, you will get a prescription. With this you can order yourself contact lenses or glasses which will adjust the imperfections in your vision and restore your sight to a higher, and safer level. It is recommended to have an eye test at least once every two years. Even if you have not noticed a change in your sight, it is worth have one as some eyesight changes may be too slight to notice yourself.
Wearing appropriate eyewear while driving will help reduce the strain on your eyes and improve your eyesight. Reducing strain on your eyes has been found to improve your overall eye health, and therefore reduce the amount of deterioration they experience over time. Headlights from oncoming traffic can often cause glare, so wearing glasses with anti-glare lenses will help massively when it comes to driving at night. For more information on selecting the right glasses for you to drive in, contact us at Glasses2You today!
Share This Post