How to Look Great in Clear Frames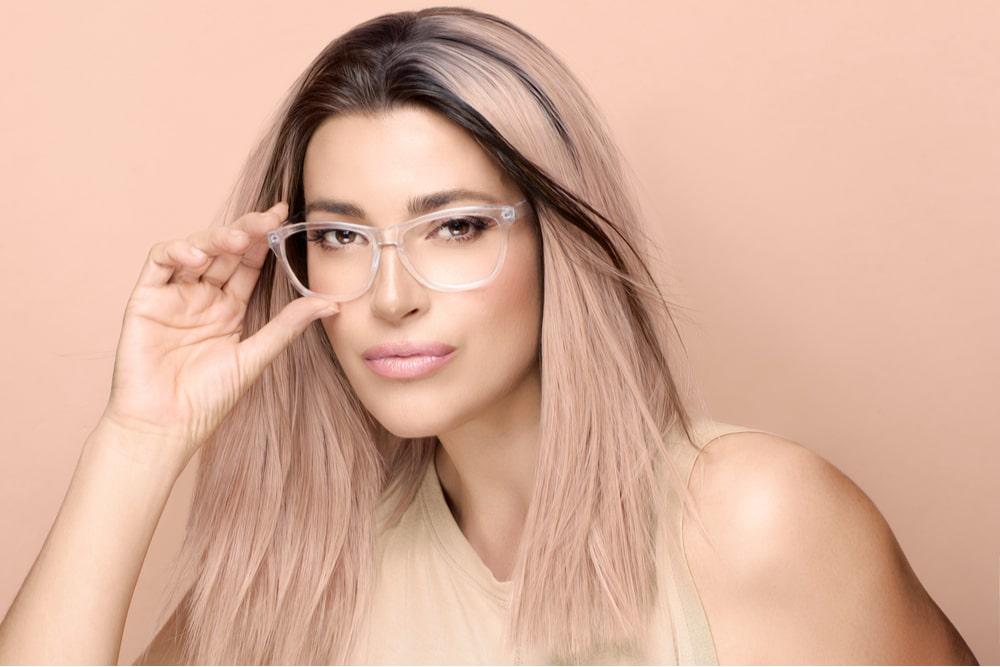 When it comes to prescription glasses, there are a million options out there - you can choose from trendy frames, classic frames, or even funky frames. Alternatively, you may want something more simple and understated. If that's the case, then clear frames are a perfect choice. Clear frames have been making a comeback in recent years and for good reason! They're versatile and can be dressed up or down depending on the occasion.
But how do you make sure you look great in clear frames? It's all about choosing the right shape, size and style.
In this blog post, we will give you tips on how to pick the perfect pair of clear glasses for your face shape and style. We will also discuss how to accessorise your new look, and give you some ideas for outfits that will complement your new frames perfectly. So read on, and find out how easy it is to look great in clear frames!
Choose the Right Shape
Clear frames come in all different shapes and sizes, so it's important to choose a shape that compliments your face. If you have a round face, a more angular frame will help to elongate your face and make it look slimmer. If you have an oval face, then you're lucky because almost any shape will suit you. However, we recommend avoiding clear frames that are too small or dainty, as they can end up looking out of proportion.
If you have a square face, you should look for clear frames that are soft and rounded. This will help to soften the angles of your face and give you a more gentle appearance. For a heart-shaped face, go for clear frames that are wider at the bottom. This will help to balance out your forehead and chin and give your face more of an oval shape. Check out our Amalea frames for inspiration.

The Correct Size is Key
It's not only the shape of your clear frames that is important but also the size. If you choose a pair of glasses that are too small, they will make your face look out of proportion. Likewise, frames that are too large, will overwhelm your face. The key is to find a pair that are just the right size to complement your facial features.
Once you've found the perfect shape and size, it's time to start thinking about how to style and accessorise your new look!
Style it Up with the Right Clothes
One of the great things about clear frames is that their simplicity and understated look means they can be worn with almost any outfit. Whether you're dressing up for a special occasion or keeping it casual for everyday wear - clear frames will always look great.
Thinking about the colour of your clothes is also an important consideration when choosing an outfit to go with your clear frames. Wearing lighter colours will highlight the frame and its shape, whereas darker colours will make the frame appear more subtle.
To accentuate your clear frames as a core element of your outfit, try wearing all one colour. Wearing just one colour will really make your clear frames stand out and give you a chic and stylish look. This could be a monochromatic look with different shades of the same colour or even a head-to-toe white outfit. Lighter and more neutral colours are best, and shades of blue are particularly complementary to clear frames. Check out our Caelan frames, a beautiful example of crystal frames with metal arms.

Consider Complimentary Accessories
As well as clothing, there are also a few key accessories that can help to pull your look together.
As we have said already, clear frames are subtle and understated. This subtlety can help to emphasise your accessories and conversely, enable your chosen accessories to highlight your glasses.
Hats, scarves and jewellery are all great accessories to team with clear frames. Again, think about the colours you choose as light and neutral colours will complement your glasses best.
Conclusion
As you can see, looking great in clear frames is easy if you know what to look for. By following our simple tips, you can be sure to find the perfect pair of glasses for your face shape, and style them up to create a look that shows off your unique personality.
Whatever your style, clear frames are a versatile and flattering option that is sure to make you look and feel your best. We have a great range of clear frames for you to choose from, so why not browse our selection today?