Buy Glasses with Confidence Using the Virtual Mirror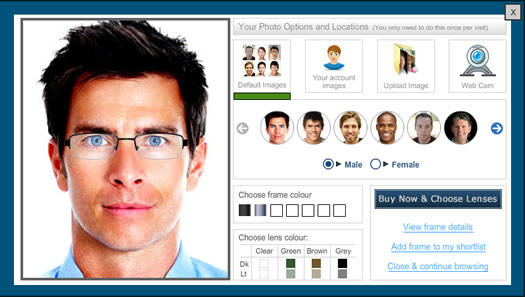 When buying prescription glasses online, you may be concerned that the frames won't suit you when they are delivered to your door.
One way to get around this problem is to buy from a retailer that has a virtual mirror. The virtual mirror allows you the chance to see exactly what your frames will look like on your actual face. It's designed to replicate the mirrors in the opticians on the high street.
When you see some glasses that you like, select the 'try in mirror' option below the image. You have a choice to either upload your own photos, which is highly recommended, or one of the pre-loaded models that has a similar face shape to your own.
You can add more frames by using the 'add to shortlist' feature and then select the 'try online' button to start seeing which ones work, which ones don't, and find your perfect a pair of frames.
If you're looking to find amazing deals, have a choice from a wide selection of men's and women's glasses and want to shop in peace, head on over to Glasses2U and remember to use the virtual mirror. If you still discover you are unhappy with the prescription glasses when they are delivered you can always return them thanks to out 14 day returns policy with no exclusions!
Share This Post