4 Ways to Avoid Eye Strain While Working from Home
Whether you've temporarily transitioned to your home office due to the pandemic or transferred to a fully remote company, working from home can have its ups and downs. And, whether you're a wearer of prescription glasses or not, eye strain is an experience shared by many.
There are a few reasons why eye strain is so common — especially now, more than ever. Regardless of whether it's due to extended computer usage or improper posture, even slight discomfort in your vision can make work unbearable.
Fortunately, there are a few proven strategies to help you avoid this reality. In this article, we'll cover some of the best methods to incorporate into your daily routine.
1. Focus on Keeping Up Proper Posture
Chances are, you've heard about the importance of good posture long before you began working from home. Though common knowledge teaches us that sitting upright and resisting a humpback position is vital for reducing lower back pain, it actually encourages a host of health benefits — more importantly, when it comes to your vision.
That's right: Maintaining good posture could keep you from experiencing that dreaded eye strain. This is because, when sitting correctly, your eyes will receive more blood flow and be protected against dry air, which can be just as effective as those glasses you found online.
So, how can you ensure your setup is eye-friendly? Here are the steps to follow:
When sitting, ensure your feet rest flat on the floor and your wrists are elevated slightly — not resting — above the keyboard (your elbows should be at a 90-degree angle).
Position your screen somewhat below your line of sight, so that your eyes look at it with a downward gaze.
Finally, sit up straight! Still, keep those shoulders and back relaxed, or else you won't enjoy promoted blood flow.
By putting this into practice, not only will your eyes feel more comfortable while working, but also your entire body!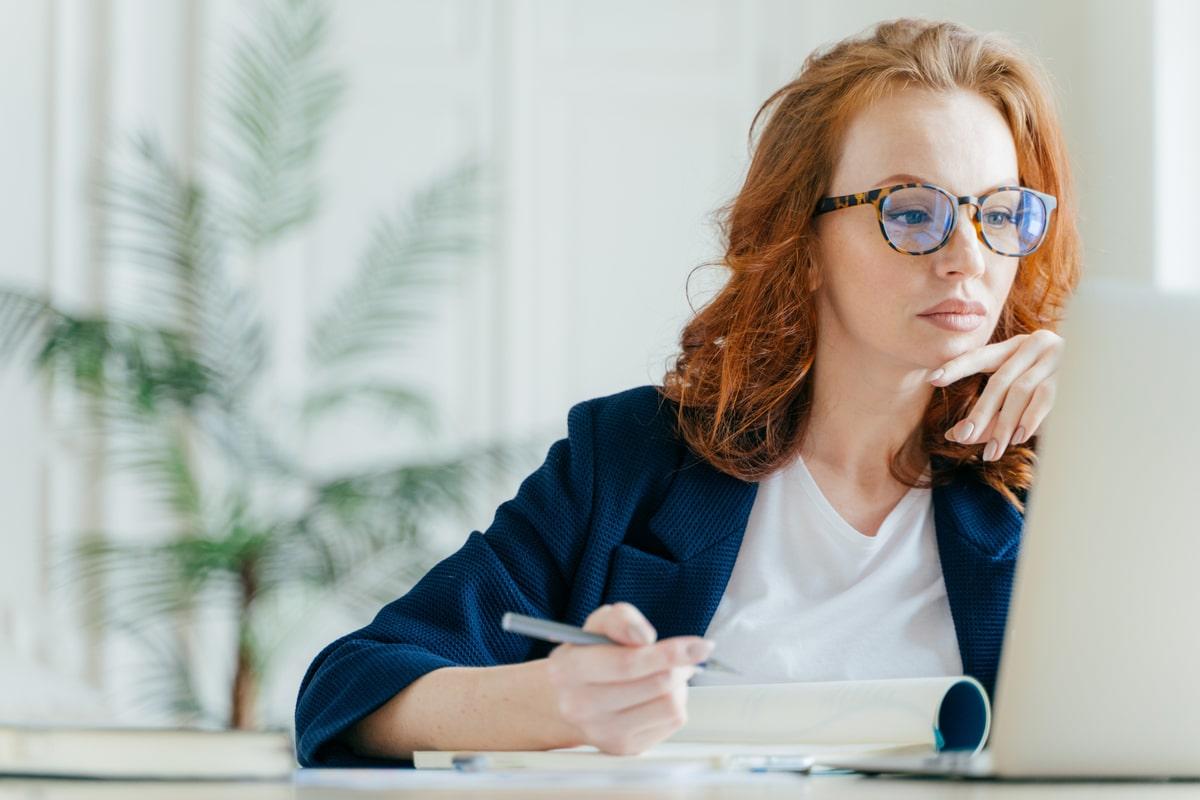 2. Don't Ignore the Lighting
Lighting is essential for various reasons in life, from allowing us to take the best selfies possible to ensure we can clearly see what we're doing while working. In fact, your prescription glasses work overtime to control the way you perceive light, granting you clear vision.
Still, there's even more to it than you might've thought. For example, if you've ever found yourself randomly experiencing a headache due to eye strain — even if your posture is perfect — it could be the fault of poor lighting.
See, even if you don't consciously notice it, a room that is too dark (or too bright!) can force your eyes to work harder than usual. For instance, a dim room could cause you to squint throughout the workday, whereas a harshly lit area can have the same effect. Unfortunately, at that point, even the best glasses on the market can't protect you from eye strain.
So, what can you do to avoid this mistake? Keep these tips in mind when stepping into your home office:
Try to identify glare. If your screen has a lot of it, try moving to a different location or placing something over your head to reduce its intensity. You can also purchase an anti-glare screen protector or coating to place on it.
Use neutral, comfortable lighting for the room: nothing too bright, nothing too dark.
Keep your light sources limited. Having too many different lights turned on will make it difficult to control the room's overall intensity.
3. Wear Quality Prescription Glasses
Sure, this one might be a no-brainer, but it's important to remember that being in a home office also means your guard may be lower than usual. Getting too comfortable could convince you to procrastinate on updating your prescription, or even give up wearing glasses altogether!
As you might expect, this is a bad decision: The prescription glasses you wear should always help your vision remain as efficient as possible for the tasks at hand. So, that means wearing the best glasses for near vision when doing computer work.
Fortunately, it's easier than ever to find quality glasses online and have them delivered directly to your doorstep. As a bonus, many prescription glasses can feature blue-light blocking lenses, allowing you to knock out two birds with one stone.
Using Protective Lenses
Blue light filter lenses are becoming an increasingly popular way to help avoid eye strain while working behind a computer screen, and that's because they work! Blue light filter lenses are designed to filter out the high-energy blue light that our screen emits. Blue light has been scientifically proven to cause eyesight strain, so reducing exposure to this type of light results in a reduction in the uncomfortable (and sometimes harmful) side effects.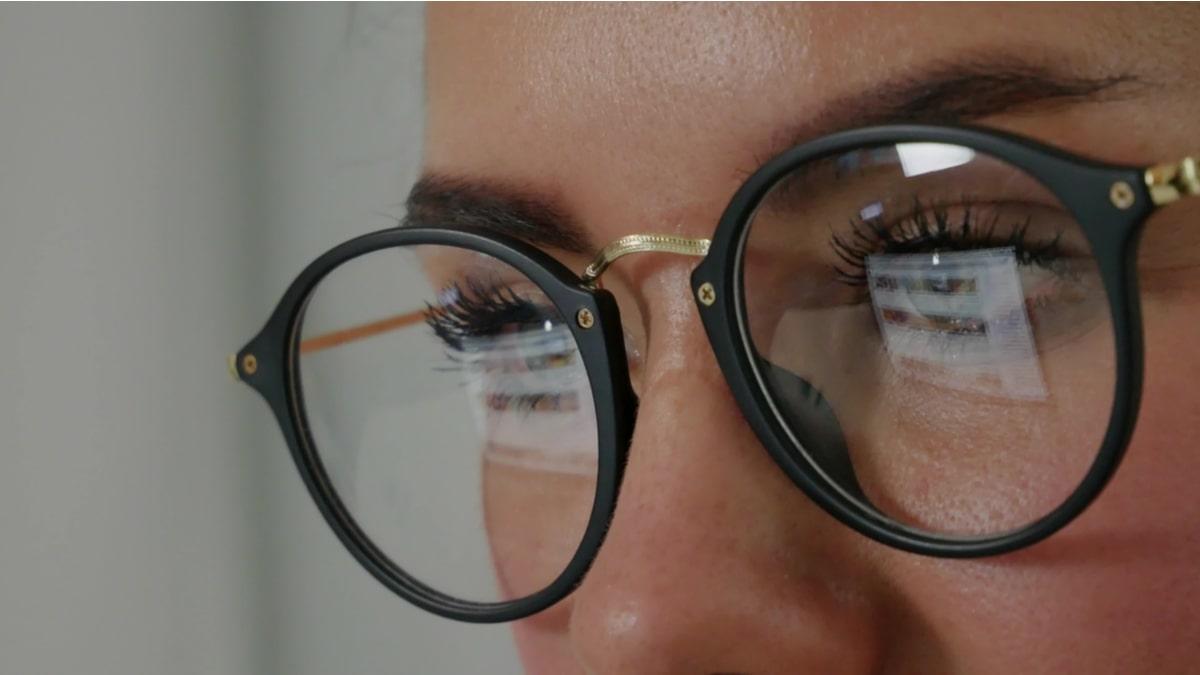 It has been found that productivity is enhanced when blue light filter glasses are used as a result of less eye fatigue and lower tiredness. Blue light filter glasses are not only perfect for the workplace but also great for use before sleeping. Blue light has been found to delay the release of melatonin in the body, this is a chemical that induces sleep. So a reduction in the amount of blue light you expose your eyes to before bed can also help you sleep better!
Protect Your Eyes (Like Your Job Depends on It)
Use these tips to avoid eye strain moving forward and remember to check out our extensive collection of frames to find the next best glasses for working from home!